Hey Everyone!
So back in August, I was invited by the lovely people at Addition Elle to participate in a blogger styling challenge. I, along with 8 other top Canadian fashion bloggers, were challenged to create two unique looks from Addition Elle's AW2011 collection for a Facebook contest. It was an amazing event with professional models, hair, makeup, catering, and photography. AE even hired a stylist to come in so we could make use of all his shoes and accessories to help put our final looks together! They even shut down their flagship store early for the photo shoot!
The delicious spread at the shoot! I borrowed this picture from Alison of 'Round Raglan Road - I hope she doesn't mind!
Me at the "Step and Repeat" AE backdrop at the beginning of the event
Me and all the other lovely bloggers with the VP of Marketing for AE
Once we all got acquainted and had a few munchies, it was time to start pulling pieces off the rack to use in our looks. This event took place at the Addition Elle flagship store, at the corner of Yonge and Temperance in downtown Toronto, so any of the pieces you see in the looks can be picked up there! There were nine bloggers there, and we each put together two outfits, so the photo shoot was pretty briskly paced! There were 3 models there who got to work with three different bloggers each, and I got the beautiful Zara Hemmings, who totally turned it out!
I decided to do one casual look and one more formal outfit. When I saw the red leopard waist length jacket with the draping in the front, it was love at first sight, and I built my first look around that piece, adding simple, casual pieces that would allow the jacket to make its own statement. I chose Apple Bottom Jeans, a simple black tee with lace detail at the neck (to add some texture), a faux snake skin belt (which I thought would go nicely with the leopard because it's kind of animal inspired as well), the model's own shoes, which are purple with red piping (and which sort of bring a lot of the different elements of the outfit together), and I topped it off with some stunning jewellery from the stylist's collection, which was gold with deep green hues. There was a whole dressing room filled with the stylist's goodies that we were allowed to play with!
Here are a couple of pictures of my first (red leopard) look. This is the look Addition Elle has chosen, out of the two I put together, for the competition.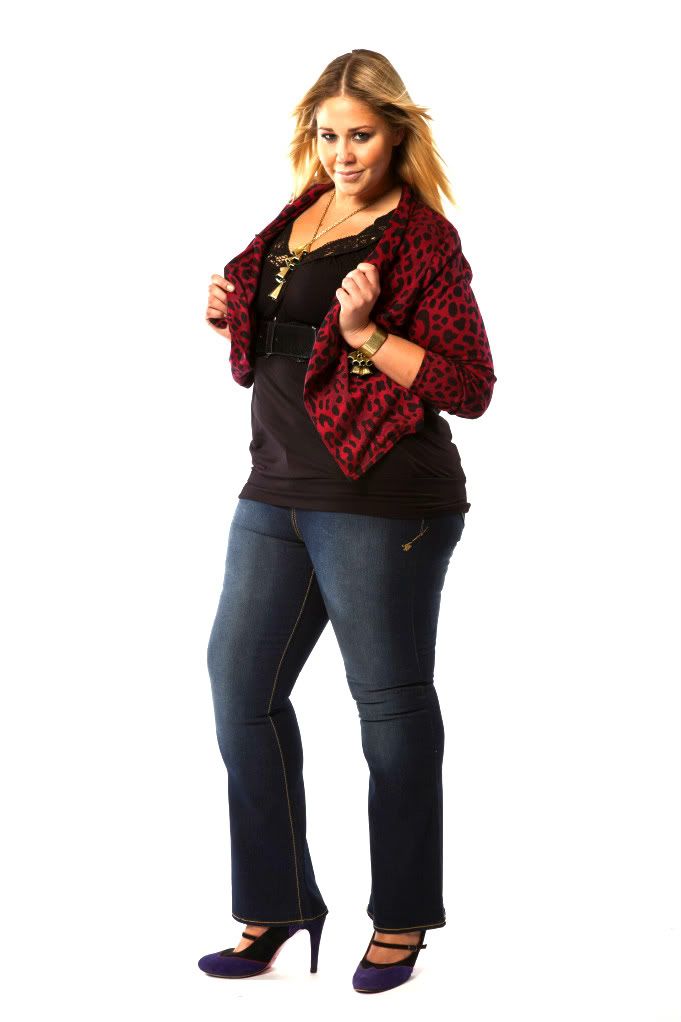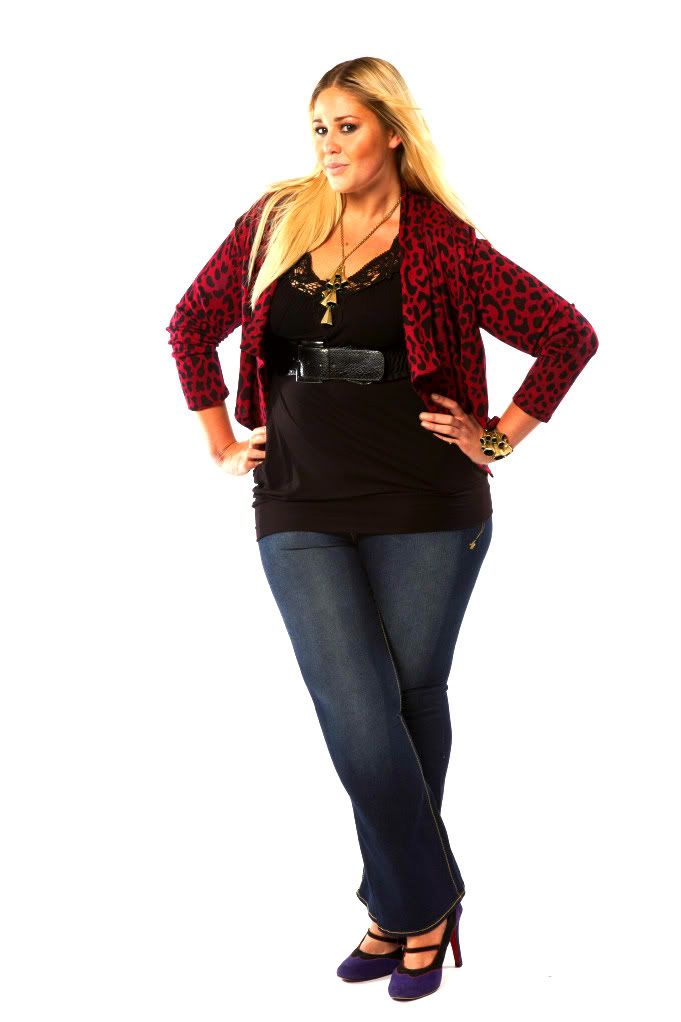 They even made me get in front of the camera! LOL... Here's me with Zara in the look I picked out for her. The cheetah and the leopard, friends at last! MEOW!
My second look came together after I came across the most stunning Joseph Ribkoff jacket on the second floor. It has a very deep hood, kind of like a hood that you would expect to see on a cape, but the actual jacket itself is very structured. It is fitted through the bodice and has a flared, bubble hem, pouffy skirt, which you all know I am in love with. Honestly, I would say it was my favourite piece to work with. I really want it! I thought it might be nice to style a formal wear look with the jacket, since Winter is coming (sorry, but it is!) and people will have Christmas parties to go to. I absolutely love the deep aubergine colour of the strapless satin dress, and I decided to style it with a lot of silver jewellery because I wanted extra shine. I love seeing looks where the stylist has piled on loads of bracelets, so I decided to try it for myself, and I must say, I really like how it turned out. We took some shots with and without the jacket, so you can see all elements of the outfit clearly. Here they are!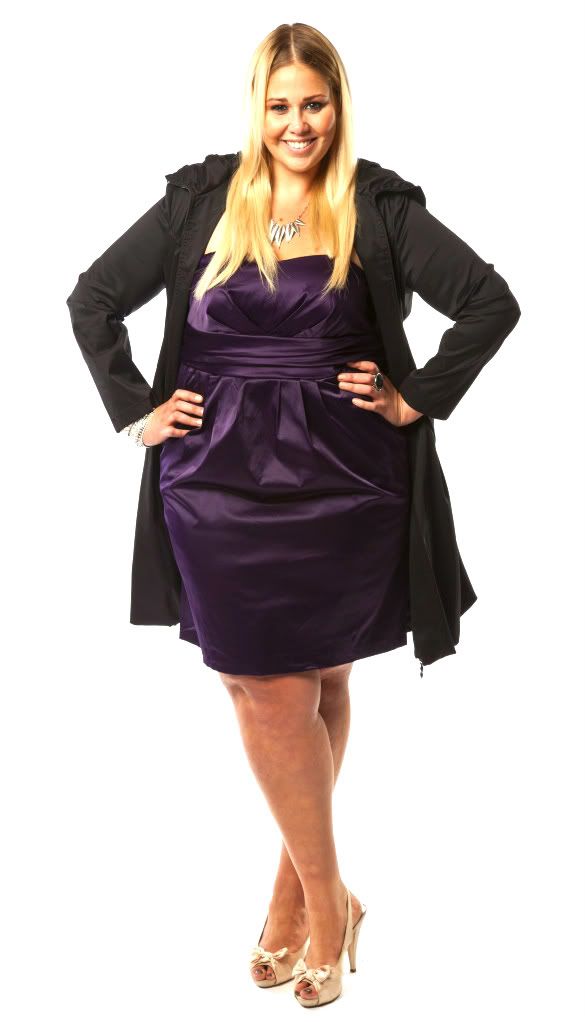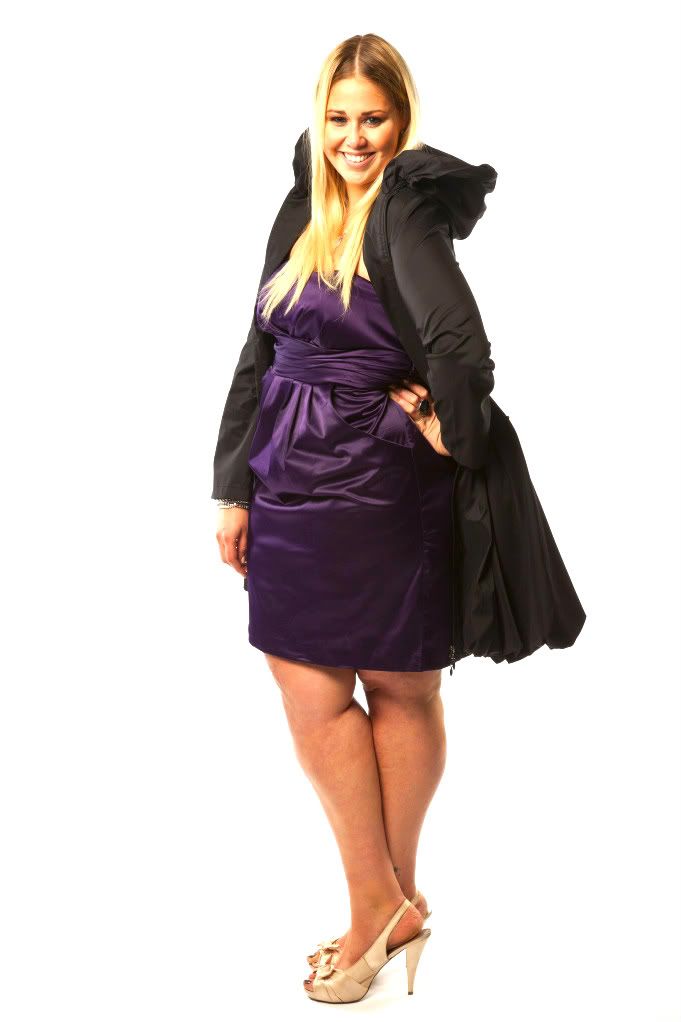 So all in all, I had a really great time styling Zara for this shoot and working with some of the amazing stuff from Addition Elle. I think the looks turned out really nicely and I'm quite happy with them!
So remember how I said this was for a
Facebook competition
? Well it launched just two days ago, and I NEED YOU ALL to
VOTE
for me!!!! LOL. It's just a few clicks of your mouse away, and I'll love you forever! As an added incentive, if you're based in Canada, each time you vote you will be entered to win a $150 Addition Elle gift card that you can put towards some of the items you've seen here, or something entirely different!
You can vote once per day
, and I would love it if you did!!!
Click here to be redirected to the Facebook contest.
So my dears, what do you think of the outfits I styled? Did you see anything that has you running to Addition Elle? Remember to VOTE!