Hey everyone,
You know how time can just get away from you sometimes? Well that's totally what's going on with me at the moment! I have several outfit posts in the works, along with coverage of some amazing events (I attended a meet and greet at Addition Elle Square One, met and chatted with Jay Manuel, met Karyn Johnson, amazing Canadian plus size model and winner of the wellies giveaway, visited Gussied Up and met with its owner Victoria, went to The Clothing Show in Toronto, and received several new items that I am really excited to tell you about... So much to tell you, where to begin?!
I think this post is just going to focus on some outfits I've worn to teach class in. I can't take pictures outside anymore because it's still dark outside in the morning when I am leaving to go in. :( That's one way you can tell that Winter is rapidly descending upon us.
The first outfit I think I actually wore out for dinner with my in-laws last weekend. It's pretty simple, but I like the small details. I got the print top from a thrift store, and it's a size small. It just goes to show that you needn't always look at the size on the tag to see if something fits. When I'm thrifting, I typically just pull stuff of the rack that stands out to me, and then I eyeball it to see if I think it will fit my body. A size small is different in the 80s and early 90s (when really oversized tops were totally cool) than a size small now. Just use your judgment. The most important thing is that you feel comfortable!
Top - Thrifted/Cami - Forever 21+/Jeans - Swapped at Big, Fat Toronto/Shoes - Dorothy Perkins/Hair Bow - Ardene/Necklace - Was attached to a top I got at Forever 21/Earrings - A gift from my sister/Purse - CBX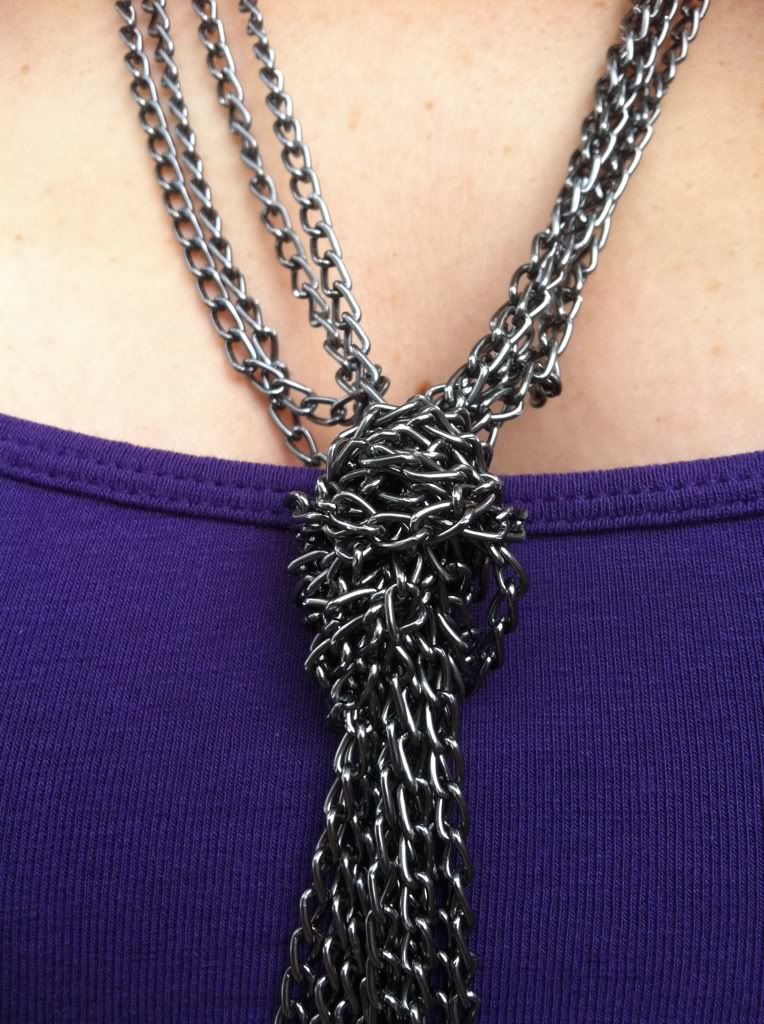 This next outfit is one I actually did wear to teach in. It's nothing special, really, but I definitely think career wear is important. And it's not totally boring... The hat adds a bit of uniqueness.
Cardigan and Necklace - Courtesy of Penningtons/ Top - Ricki's/Skirt - Giant Tiger/Purse - CBX/Hat - Thrifted
I also wore this one to teach in, but it was a Friday, so that explains the jeans. I wanted to do something a little different with my hair so I did a big bun right at the front of my head. What do you guys think?
Top and Bracelet- Forever 21+/Jeans - Swapped at Big Fat Toronto/Shoes - Dorothy Perkins/Necklace - Courtesy of Penningtons/Purse - CBX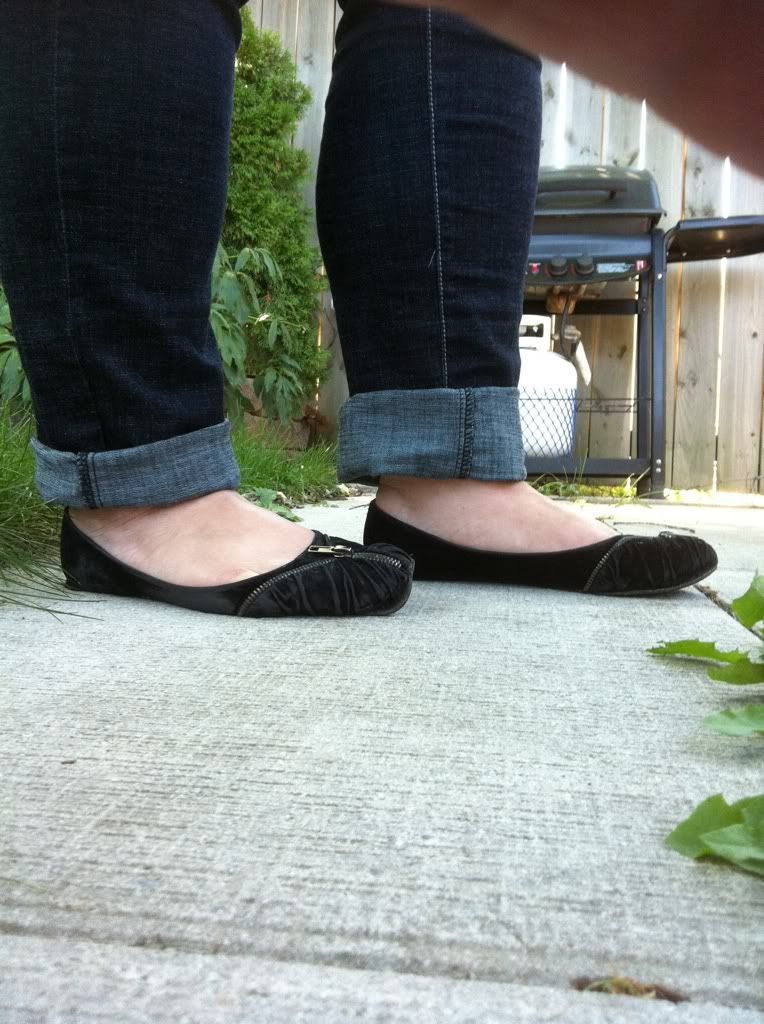 This is yet another teaching outfit. I was talking about feminism, and since a large part of our current understanding about feminism comes from French cultural theorist, I thought I would pay homage to them by wearing something a bit inspired by French style.
Jacket and Skirt - Thrifted/Tights - Legs Beautiful/Shoes - Redress NYC (originally from Target)/Purse - CBX/Necklace - Courtesy of Penningtons/Earrings - Courtesy of Pixics/Hat - Le Beau Chapeau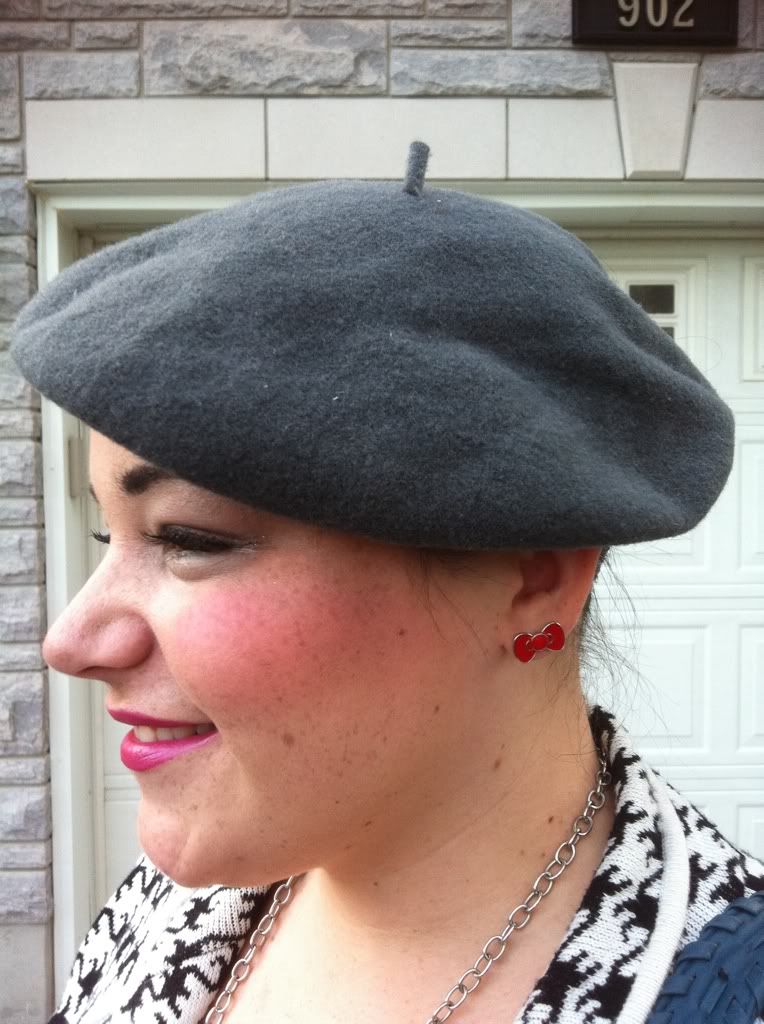 Make sure you keep checking this page for coverage of all of the events I've gone to and the products I've worked with. There is a giveaway coming up very soon! So which outfit was your favourite?