Hey Guys!
So I mentioned before that I was given an amazing opportunity to style MTV host Sheena Snively at the beginning of the month. I have been anxiously waiting for the editing to be done and the video to be posted, and it's UP!!! I wanted to make sure I gave you guys the inside scoop, a sort of behind-the-scenes look at the styling I did and my experiences, so that's what this post will be about.
Sheena was an absolute dream to work with, and I think I can actually call her a friend after getting to style her! She is so warm and open and sweet, and I was REALLY excited to get to meet her, but she seemed excited to meet me too, which was so weird for me because, like, she's the celebrity, ya know? But she did seem really happy to see me, and I was super flattered about that. I studied
Sheena's fashion on her facebook fan page
and in her videos to get a sense of her style before pulling samples for her. It's SO important for the person you're dressing not to feel as though you're dressing them in someone else's style. They need to feel like themselves, just the best possible version of what that is. I made sure I was careful with all of the selections I made for Sheena, and I really think that she was pleased with everything I picked out for her. She especially liked the DKNY pink moto jacket from Lane Bryant, and the ruched back boots from Torrid. She was also so excited to learn about a less-known brand called
Domino Dollhouse
that offers fashions that are really consistent with her youthful, edgy style, and she loved the Dahlia Pencil dress, Pretty Kitty cardigan, Miss Fancy Top, and Bowie Metallic Leggings in Red that they sent.
All of the samples I pulled from the different retailers had been sent directly to MTV, and I was so eager to see all of the items in person so I could get a better sense of the garments. Sheena had waited for me (very patiently, I might add) before she even tried anything on, but I am pretty sure that the wait was killing her, as she was super excited to finally get to put on the clothes. She looked absolutely fantastic in all of it!
When I got there, I put several outfits together out of all the lovely pieces that had been sent, and we got to filming. I got to be a bit silly on camera with Sheena, which was awesome, and I don't think she was expecting that at all, lol. We had a total blast working on the video, and afterwards, Sheena gave me and Peter (who was there snapping LOADS of photos) a tour of the MTV Building, which used to be a Masonic Temple, and thus, is very creepy. It was lots of fun to have her give us the grand tour! Without further ado, here are a few photos of the shoot, Sheena looking absolutely fantastic in her new clothes, the MTV FORA video, and links to all the lovely stuff Sheena's wearing. I'd love to hear your comments! =D
Checking out all the stuff that was sent to Sheena when I first arrived...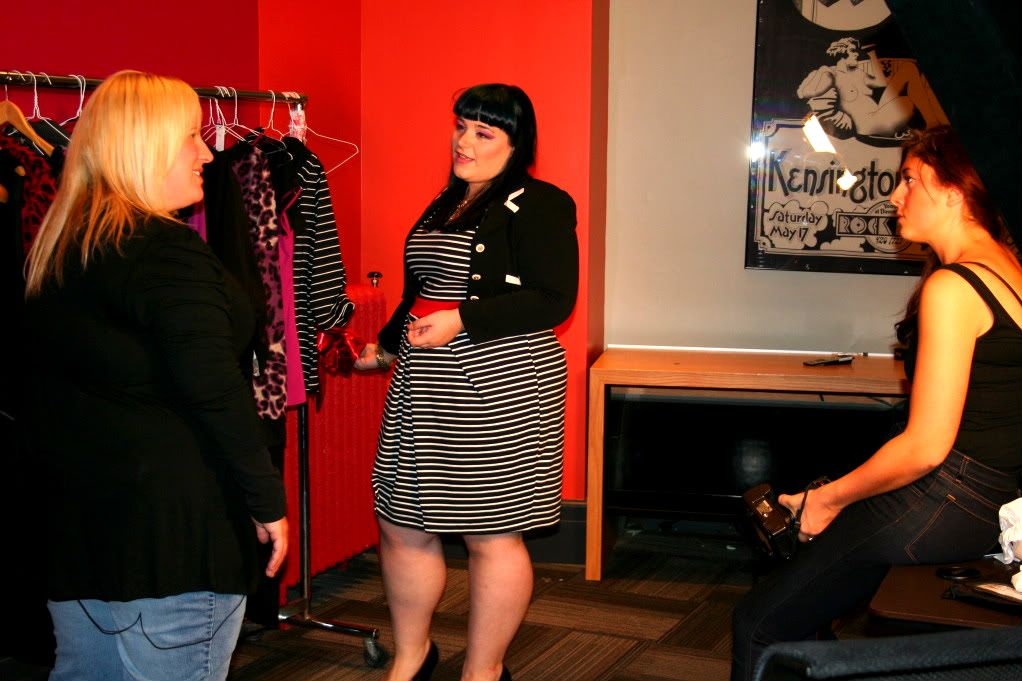 Chatting with Sheena and Leeor, editor of MTV FORA (right) about all the pieces!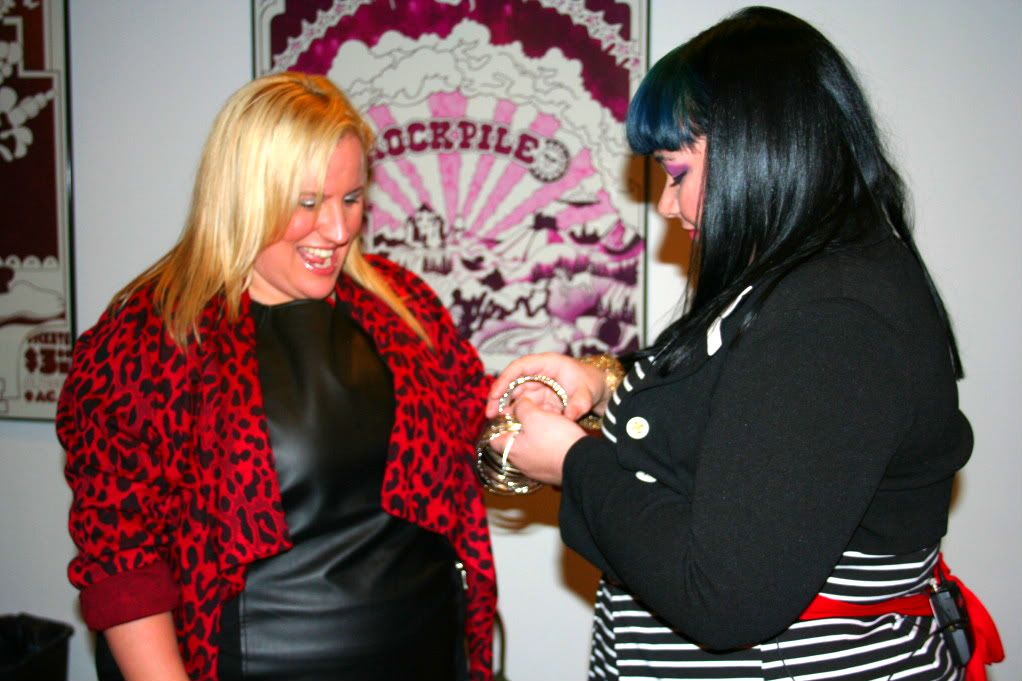 Putting some bangles from Torrid on Sheena... She was really excited about the bangles!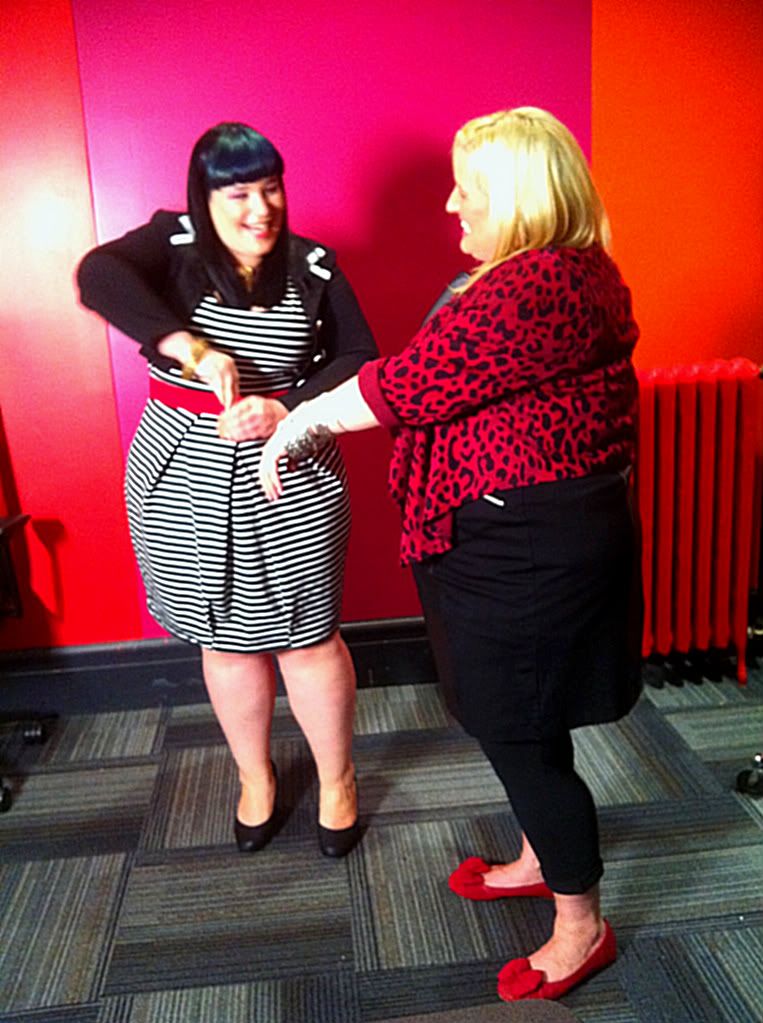 Sheena and I chatting about how hard it is to find bangles that fit at accessory stores, and how you try to fit your hand in ones that are too small anyways... LOL.
We're getting excited about how awesome these red metallic tights from Domino Dollhouse are...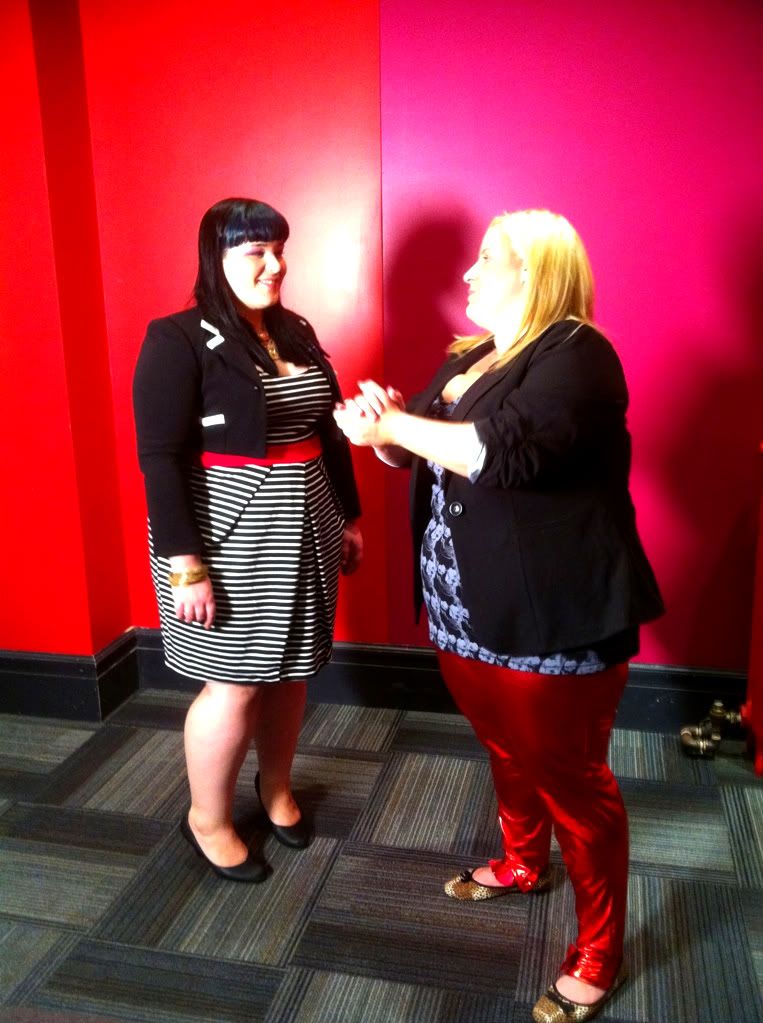 Sheena's interviewing me about my blog here... This part didn't make it on the cutting room floor :(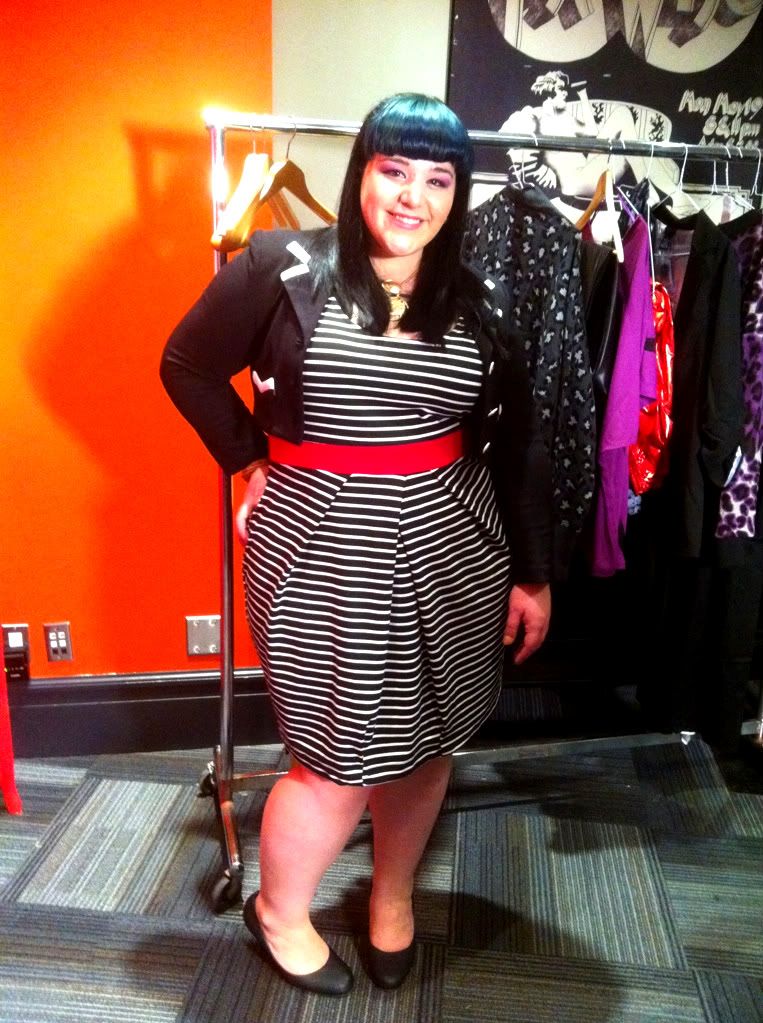 Peter took a shot of me in between outfit changes =D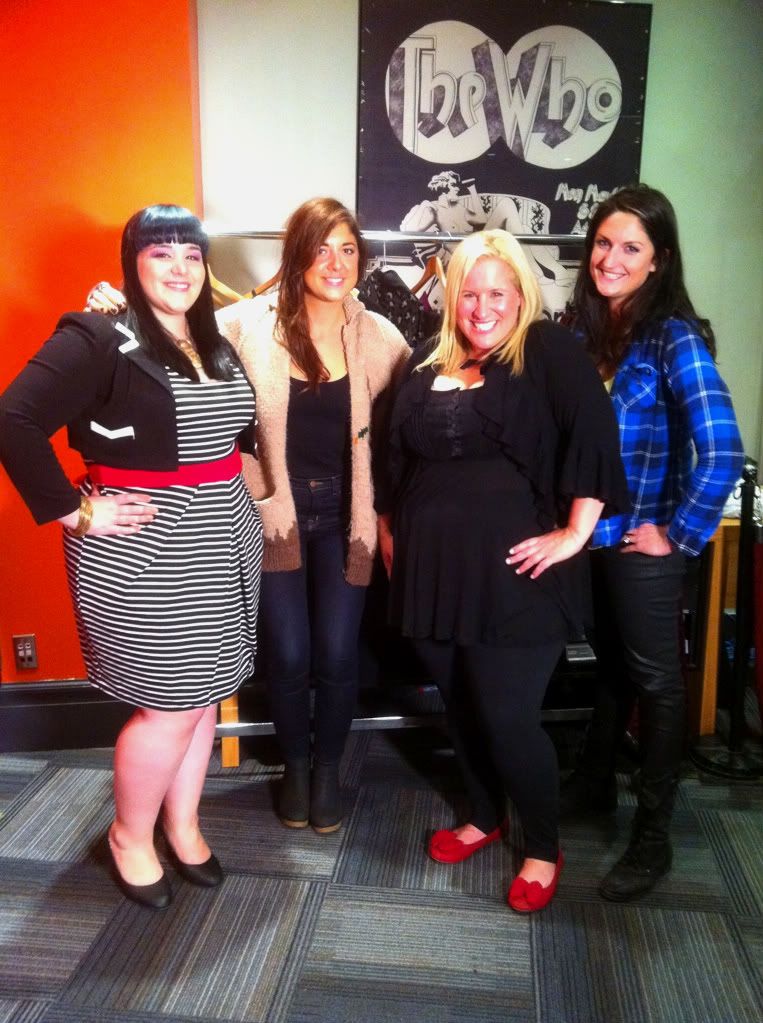 A final shot of all of the fine ladies who worked together to make this happen!
And just me and Sheena... LOVE this shot! =D
And that's a wrap! It was SUCH an awesome experience to style Sheena, and I really hope I am invited back to do it again! You should definitely check out the MTV FORA video (below) and see the antics we got up to. Pretty hilarious! =D