Hey Guys,
Recently, I (and 7 of my other Toronto plus size fashion blogger friends) were invited by the lovely people at Penningtons to the debut of their Fall/Winter 2011 collection at the Heartland Town Centre location in Mississauga, Ontario.
First, I had to decide what to wear! Whenever there's an event where I am meeting other very fashionable women, I want to look my absolute best and dress a bit more creatively than I normally would. I knew all the other wonderful bloggers in attendance would look awesome (and I was right), so I wanted to make sure I picked something that would look good even with the fashion bar raised so high! I love events like this because they provide the context for me to wear things that people might normally think is a bit "out there." When I was putting my outfit together I was inspired by 1970s Halston - blending really rich colours (aubergine, red, cream, bronze, gold, russett) and textures (lace, silk, leather, wool, feathers) to create a lot of visual interest.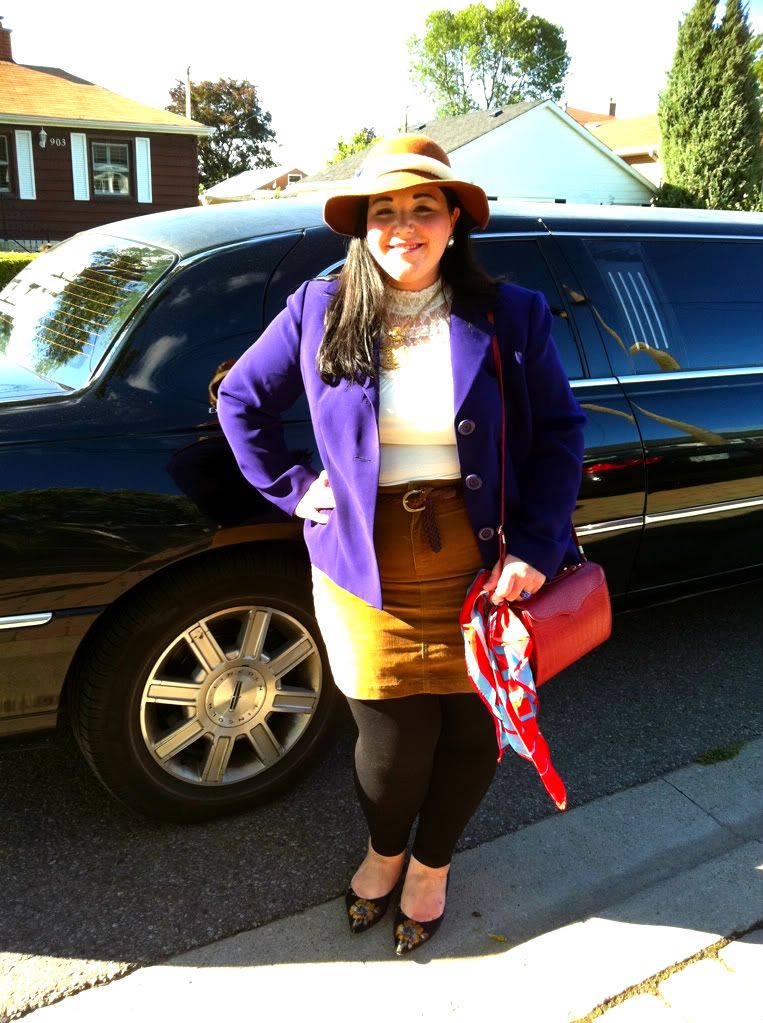 Blazer - Tahari (sent to me by my friend and fellow blogger, the lovely Jessica from Chic in Every City)/Top - Costa Blanca/Earrings - Forever 21/Hat, Bag, Belt, and Scarf - Thrifted/Skirt - The Gap/Ring - Ardene/Necklace - Laura/Shoes - Beverly Feldman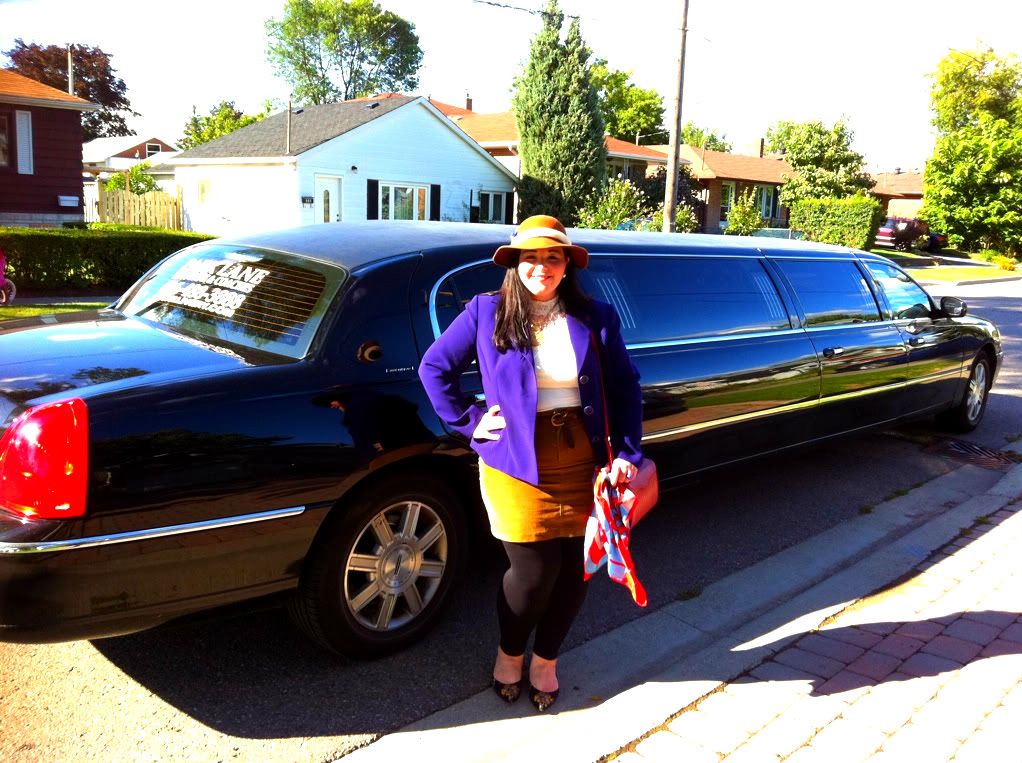 Penningtons sent a stretch limo for us! I was so excited!
Once we got to the store, there was so much to see and do...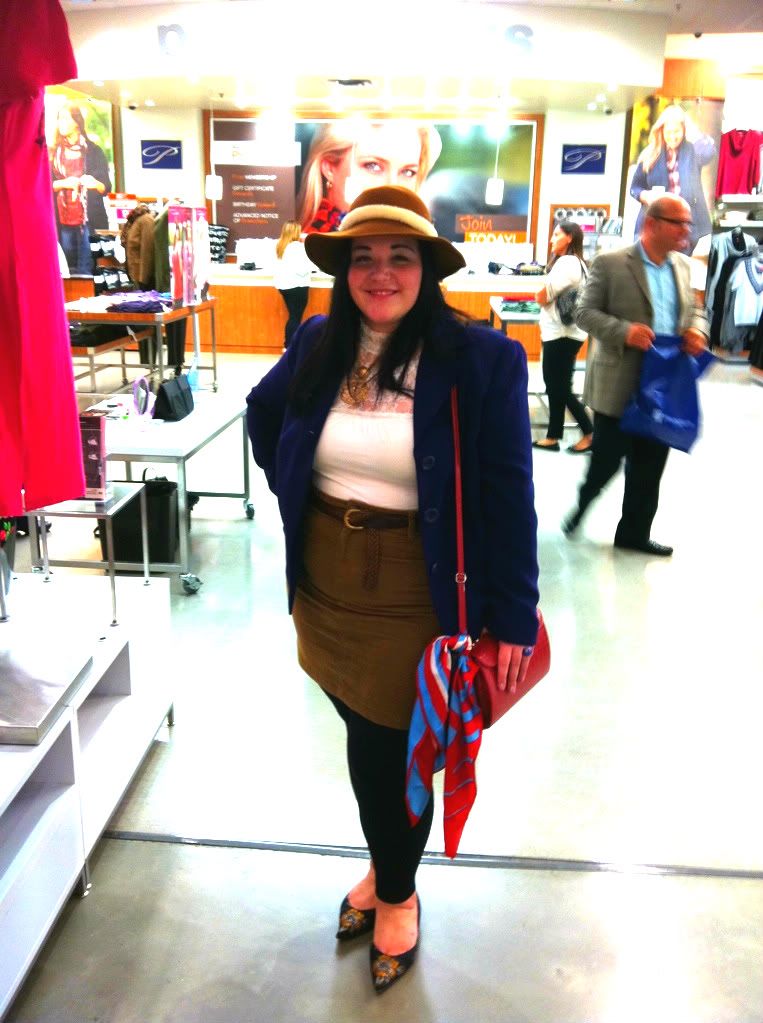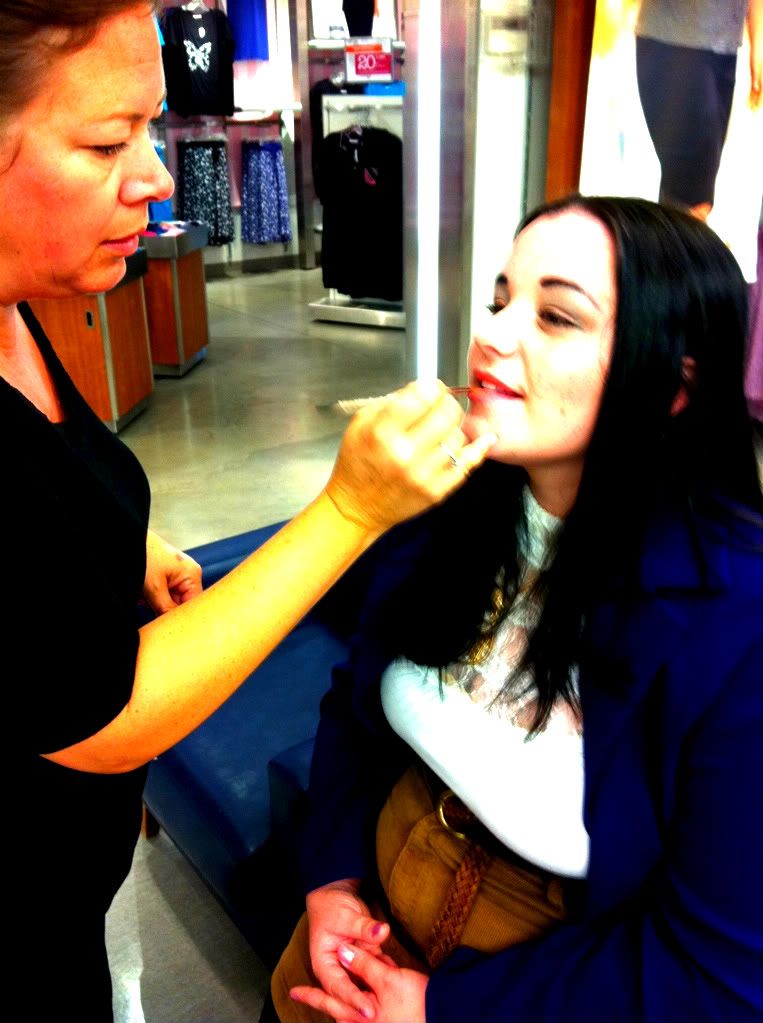 They even had a make-up artist on site for touch ups!
There were lots of great hors d'oeuvres and beverages to keep us refreshed during the event. Penningtons kindly gave each of the bloggers a $150 gift card with which to purchase some of their beautiful items, so the bloggers were happily shopping all evening long. You'll just have to wait for Outfit of the Day posts to see what I got! I've already worn a couple of the items I got.
One of the best parts of the night (if not the best) was meeting the members of Penningtons' retail marketing and buying team. They were full of questions for me about what I and my readers are looking for in a store. They were very receptive to all of my comments and suggestions, and I can tell that this is a company that is truly committed to participating meaningfully in the online community. They are also going through a major re-branding. My perception of the store has certainly changed from before I attended the event. While before I was invited to the event, I thought the store carried only fashions for an older demographic, I can see now that much of what they've added would appeal to a younger customer. They still carry many items that are geared towards their current customer base, but it seems that they are extending their line so that it suits a greater age range. So if you haven't been in awhile, it's definitely worth a second look.
Some of the Penningtons execs I was chatting with
And at the end of the night - the bloggers got together for a final photo op. Alison from Round Raglan Road and Franceta from Frantic Dreams are here (they came in a different car so they weren't in the first couple of shots), and Adrienne from Big Girls, Bigger Dreams is missing from this shot. I bet she was still shopping!
All in all, I had a great night. It was great to spend time shopping with my bloggin' buddies, whom I can't wait to get together with again, and it was also wonderful to meet the faces behind the brand and have them be so receptive to what I had to say. Thanks so much Penningtons!