Hey everyone,
If you are as avid a fashion magazine reader as I am, you will have seen the new campaign for Jay Manuel's new line, Attitude, with Sears Canada - Sorry to the US peeps on here, it has launched in Canada first, with possibilities of expansion into the US stores at some point in the future - when does this ever happen? Usually it's the other way around!
For those of you who didn't know, Jay Manuel (also known as "Mr. Jay" on the show America's Next Top Model), is actually Canadian - born and raised in Scarborough, Ontario. Gotta love homegrown talent!
Anyways, I've seen a picture of
this amazing coat
in a campaign in this month's Flare, Elle Canada, and Fashion magazines, and I was like, woah, that's an amazing coat.
But like I do with most things I see in fashion magazines, I looked and passed over it, assuming it would not be available in my size and be way out of my price range. Well, I was wrong on both counts. For once, I am happy to admit it! The line actually goes up to a size 18. The most expensive piece in the range is actually this coat, which retails for $229.99, and is currently
on sale online
for 40% off (until tomorrow). Trust me when I say I am having the hardest of times not breaking out my credit card right now.
How did I find all of this out, you might (not) wonder... Well, I actually was fortunate enough to win tickets to an event where I got to preview the line and meet Mr. Jay himself, courtesy of Fashion Magazine Canada! I have been very lucky through twitter! Up until now, I have not won many things, but I keep getting goodies by retweeting things! I love it!
Jay talked about how he was pleased that he could offer the line to a wider size range of women, and explained that if a piece wasn't going to look good on women at any size, then he simply wouldn't put it in his collection. He also reiterated one of Coco Chanel's oft quoted design principles; that fashion is not about size, but about proportion, and that a woman can be stylish at any size. Have I mentioned that I <3 him? The presentation of the collection was really wonderful, and a montage began before a short (5 look) runway show. The montage showed Jay working with other designers, models, etc., and Billie Holiday's song, "I'll be Seeing You," set the mood for the nostalgic collection, which evokes 1970s luxury. I was very excited to see the collection, especially after finding out the garments would fit and hearing Jay talk about it. The collection is really lovely and I am hoping I will get to see a full fashion show of the collections Spring 2012 looks at LG Toronto Fashion Week in October.
Here are a few pictures I was able to snap while watching the show...They are a little unclear since I was a bit far back and because the models were moving... But you get the idea.
Aren't all of the looks pretty? I really love that Winter white suit, and I am also loving the pink and black jackets! After the runway show, I actually got to meet Jay and get his autograph. He is such a nice, down-to-earth person! We talked about the line, and how I was really happy to see a designer step outside of the ends-at-size-14 business model. He was really receptive to everything I had to say and he was totally nice. The first thing he did when he saw me was say "look at you! So chic!" and said he really liked my outfit, and that he especially loved my hat. I was totally blushing, because that means like, a lot, you know? Coming from him...! Anyways, I did put a bit of extra effort (read: I pulled every piece out of my closet mixing and remixing and ended up with clothes strewn all over my room) into my outfit that day because I knew I was meeting Jay, and the fashion context allowed me to be a bit more bold with my choices. I decided to go with a monochromatic look because monochromatic dressing was quite pervasive on the Fall 2011 runways (and is actually carrying over into the Spring 2012 collections). Think of it as the antithesis to colour blocking! You can see some pictures of what I'm talking about from
Lanvin's
,
Blumarine's
, and
Michael Kors'
Fall 2011 collections. You don't have to worry about being all "matchy-matchy" anymore - it's in this season!
I was a bit nervous to try this look out for myself, because it is kind of dramatic, and I was wondering how people on the streetcar would respond to it. It was fine. I think I added the touches of brown because I couldn't fully commit to everything being one colour. Baby steps... LOL.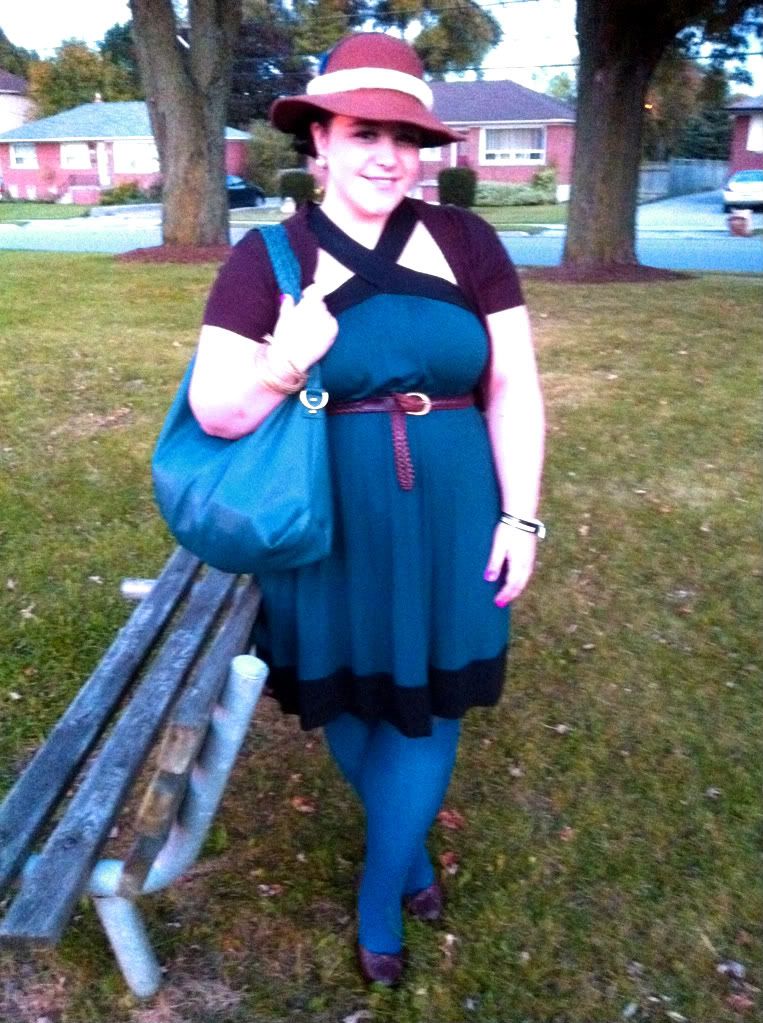 Hat, Belt, and Earrings - Thrifted/Dress and Bracelets - Forever 21/Purse - CBX/Shrug - Dots/Tights - Addition Elle/Shoes - Payless
And I finally got to meet Jay, which you can tell from my expression in the picture below that I'm really happy about... LOL. It was a great event. Thanks to Fashion Magazine for giving me the wristband!