Hey Guys!
Last weekend, I got to go and hang out with Stefanie from SexyPlus Clothing on Yonge Street in Toronto. Stefanie invited me to do some modelling for her, and I shyly, yet happily, agreed. I was supposed to do some runway modelling for her back in early December, but the event ended up being cancelled, so I was glad I finally got the opportunity to work with her! The shoot was a lot of fun, and I got to try on about 5-6 different outfits. Stefanie also wanted me to do a review of one of her pieces, so I'll show you some of the outfits I modelled and the dress I ended up picking out for my review.
The store itself is really lovely. It has a very warm, inviting atmosphere, which partially has to do with the layout and design of the store, but mostly is because of the lovely service provided by Stefanie and one of her shop associates who was there, Michaela. While I was modelling and changing outfits, I got to see them both work with a number of customers, and they each made the women who entered the store feel immediately at ease, which is so important, especially in a store dedicated to dressing plus size women, who can often have trouble with self-esteem and confidence (not that this is exclusive to plus size women, but it's certainly a pervasive issue in the community). A couple of beautiful women came in and tried on corsets. They sheepishly allowed themselves to be assisted by Stefanie and Michaela, but by the time they were finished being laced-up, their faces resembled a renewed, or perhaps newly-found, confidence that they didn't seem to have when entering. It just goes to show how important clothes are in terms of affecting one's own self-perception. These women, first ill at ease, were now proudly walking out of the changeroom into the store, where several people could admire both their beauty and their new confidence. What an inspiring scene!
The actual changerooms themselves are very comfortable. There is a hook for your purse (it's actually labelled) a hook for your coat (again, labelled) and a long closet style bar where you can hang all your garments up comfortably without having to worry about things getting all tangled together or falling off. The changeroom is large enough for a plus size person to very comfortably dress and undress, and there is (what I like to call) a husband chair just outside with a big ol' pile of manly magazines (with stuff about cars, and motorcycles, and pumping iron, etc... lol). They also have girl magazines in case you bring a straight size friend with you for their opinion. Sometimes I find change rooms are way too hot. Stores use the hottest type of lightbulb available, and by the time you're on outfit 3 or 4, you're sweating up a storm and you're ready to go home. I found the temperature in Stef's store (and her dressing rooms particularly) to be just perfect. I was totally comfortable the whole time. Stefanie has set the store up in such a way that you can be sure you will have a comfortable, relaxing, enjoyable, and successful shopping trip.
Now to the actual looks Stef chose for me to model!
The perfect outfit for a tropical getaway...
Love this dress...!
This was my favourite dress of the day, a stunning a luxurious Joseph Ribkoff number. It would be perfect for FFFWeek!
Left to Right: Myself, Stefanie, and Michaela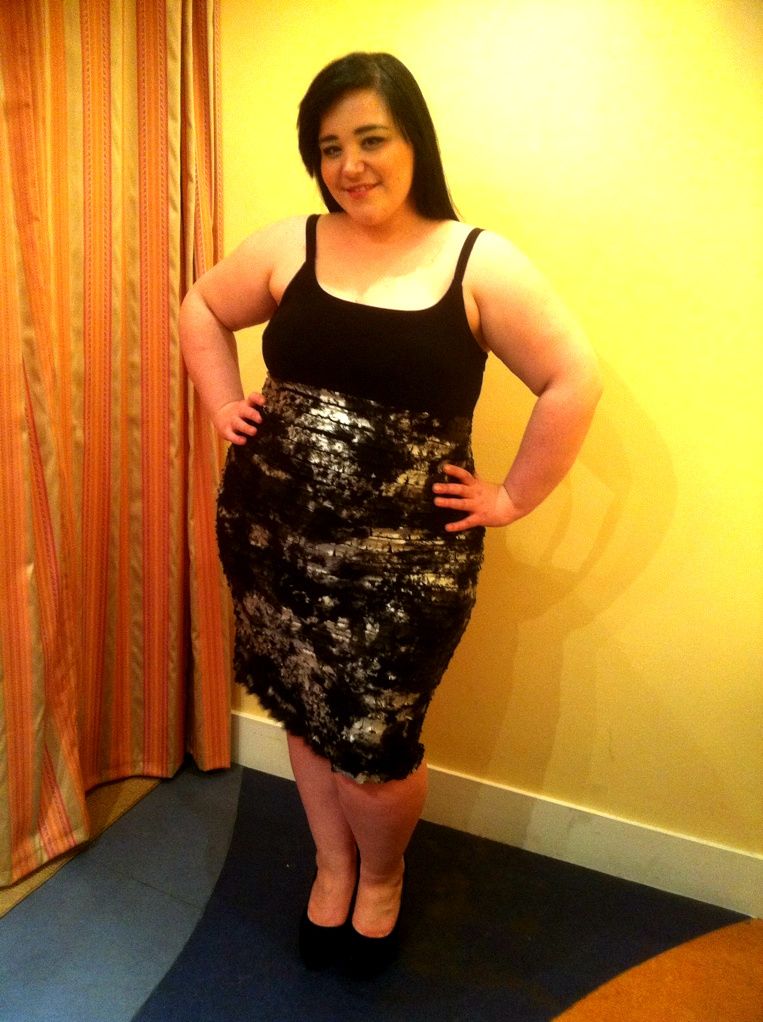 Another beautiful Ribkoff piece...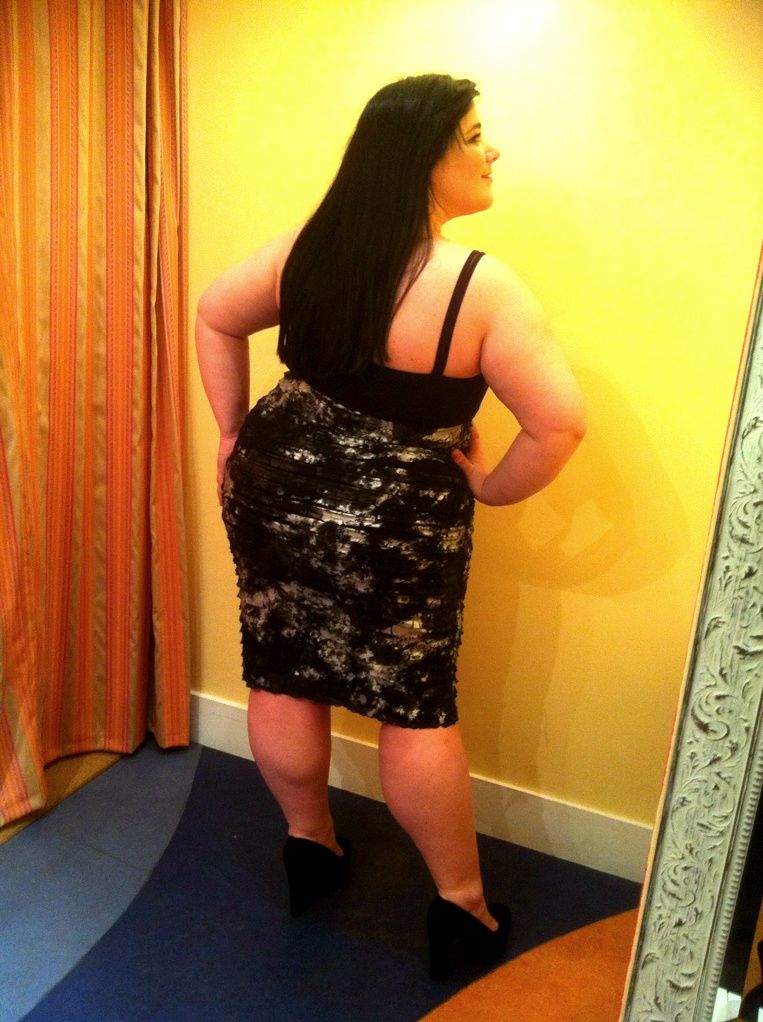 And from behind...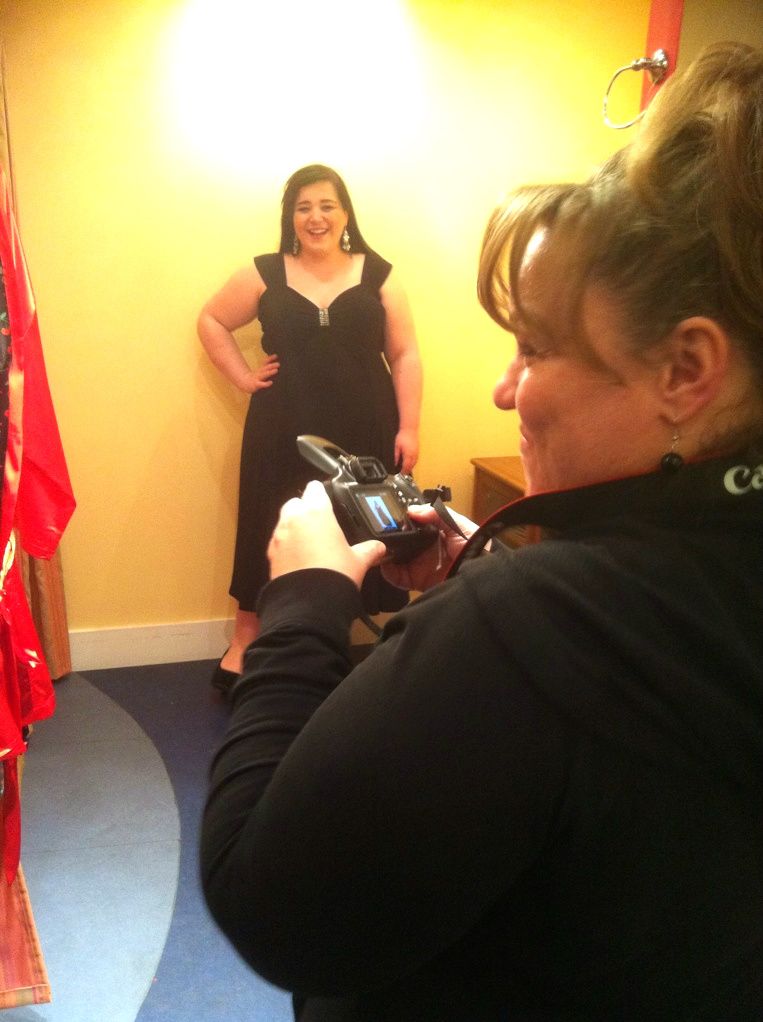 Stef cracking me up during the shoot...
And look how cute my Peter looks!!! So handsome. <3 Love that jacket on him!
After awhile of modelling, I got to pick out my piece that I was going to review. I chose this beautiful, full skirted, faux-double breasted dress by Chic Star. The quality of the fabric is really beautiful, and the workmanship is excellent too. The design is stunning. The dress is remniscent of the Ribkoff one I love so much, but it's a bit more casual, which means I can be sure I'll get more wear out of it. It's a lovely dress that's very comfortable and that I know I will wear again and again. What do you ladies think? =D