Hey Guys!
So I've been seeing a lot of neon around lately, and I've been a little bit reluctant to wear it (mainly since I am old enough that I was a part of the trend when we did this the last time, in the 90s, and I wasn't so sure it needed revisiting) but I finally decided I would give in an give it a go. I decided to try mixing last Spring's hot trend of colour blocking with the neon. I also added some polka dots in for good measure. All I'm missing now is the side ponytail!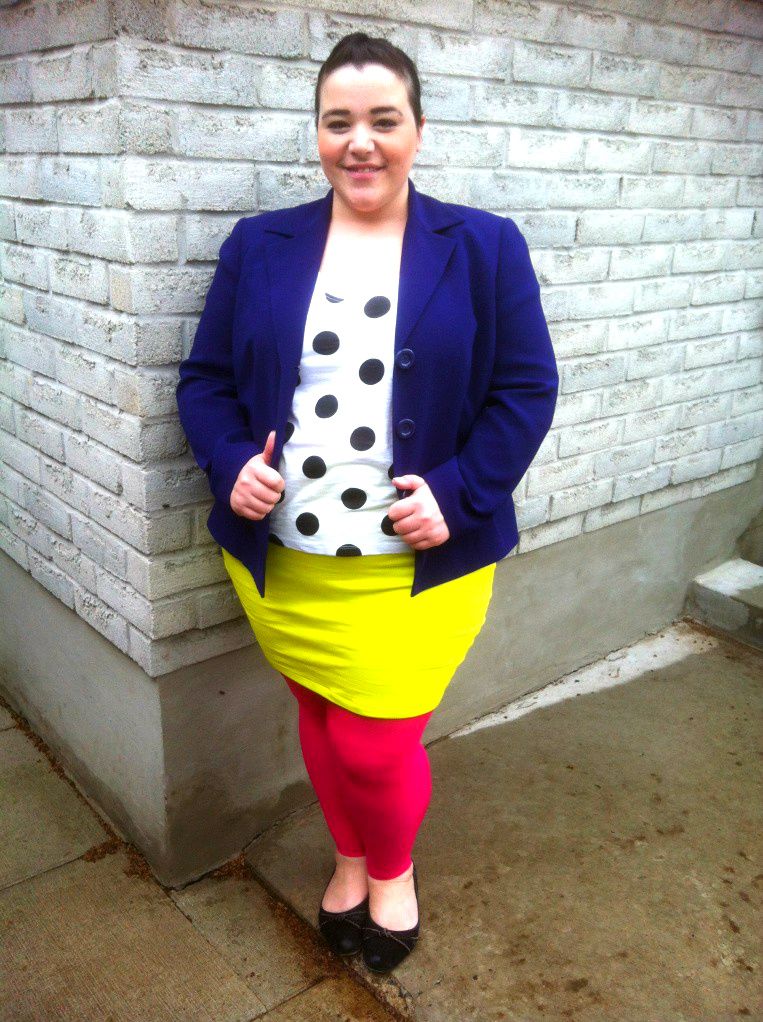 Top and Skirt - Forever 21+/Jacket - Tahari Woman (sent to me by the fabulous Jessica from Chic in Every City)/Tights - Exhiliration brand from Target/Shoes - Lane Bryant/
Peter and I (with Peter a little embarrassed about how wild my outfit was) went to our usual Saturday morning coffee shop (except this was a Sunday) and then we went to go check out Gussied Up Plus on Bathurst and Dupont in Toronto. If you're an avid reader, you'll know that I've already been there and posted about them a couple of times, but I entered an online contest and I won $100 gift card to use there, which made me SO excited, because I can honestly and unreservedly say that Gussied Up Plus is my favourite plus size store in Toronto. I just love to shop there so much! Everything they carry is so fashionable, the prices are reasonable, the owner, Victoria, is so helpful, and the atmosphere of the boutique is so wonderful. Here are some of the pieces I tried on. Please excuse the pink tights. I was too lazy to take them off!
I really liked everything that I tried on, but I ended up picking out the
Monaco Ruched Swimsuit by Monif C. in fuschia
! I will do a post about it, but later, when the weather is warm enough to actually wear it! It is so stunning on... I saw it on the
Monif C.
website last Summer, and I was in love with it, but I just couldn't afford to shell out so much on a swimsuit (since I'm still a student), and I was also a little nervous about ordering it without having tried it on. But honestly, it is SUCH a nice suit. Worth every penny. I don't think I've ever seen such a nice swimsuit on me before. I am going to have such crazy beach confidence!!! Can't wait to show you guys! Now I want the
Espana
too, in red! That ruffle is so awesome. What are you guys wearing to the beach this summer? Have you rocked the neon trend yet?